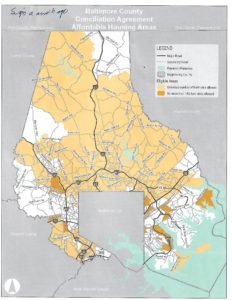 Click on map that shows where 1,000 section 8 housing units will be built in 12 years.
Baltimore County has more than 6,260 housing choice voucher holders; 90 percent of them are Section 8 and the remaining 10 percent are for veterans, the elderly and the disabled.
The largest concentration of people holding vouchers live on the east side in neighborhoods such as Dundalk, Essex and Middle River (and Fort Howard with high density rental development?) nwvoicenews.com
Per a settlement agreement reached on March 9, 2016 between Baltimore County and the United States Department of Housing and Urban Development 1000 new section 8 housing units must be built in Baltimore County. Two main elements of the settlement agreement will have a direct impact on the community of Fort Howard, Maryland.
Hard Units
The agreement requires the creation of "Hard Units." The term "Hard Units," (a euphemism for Section 8 Housing) is defined as affordable rental housing resulting from new construction, substantial rehabilitation, acquisition, or existing stock.
Baltimore County must take all necessary steps to cause private developers to develop 1000 hard units over the next 12 years.
To boot, the Baltimore County taxpayer must established funding at $3 million per year for 10 years to leverage financing for the creation these section 8 housing "Hard Units," developers must develop.
Baltimore County agreed that there is not enough affordable rental housing for families in the county and that the best way to encourage more workforce housing was to assist developers financially with projects to increase this type of housing stock.
Section 8 Housing Family Relocation
Within 10 years, the County must locate 2,000 families into certain defined census tracts. Fort Howard, Maryland is a Baltimore County Conciliation Agreement Affordable Housing Area designated tract eligible for unlimited number of section 8 housing "Hard Units."
County Residents Rights
County residents maintain their rights to support or oppose bills, zoning changes and developments to the same extent as they have for decades.
However, the County Council, state and federal judges, the Zoning Commissioner and the Board of Appeals maintain their rights to make the decisions they see fit in conformance with the applicable requirements of county, state and federal law.
The implications of this conciliation agreement is of deep concern to the Fort Howard Community Association.
Although the Fort Howard Veterans Hospital property was rezoned from DR5.5 (5 dwelling unit per acre) to DR1 (1 dwelling unit per acre) in the 2016 CZMP, a spot zone process call "Planned Unit Development," allows for changes in zoning for a given purposed development area.
The latest courting developer is proposing 400 rental houses and 3 project type apartment buildings all of which will be subject to the section 8 housing provisions of the March 9, 2016 agreement between Baltimore County and United States Department of Housing and Urban Development as indicted in the above map with Fort Howard, Maryland colored yellow. Will Fort Howard eventually succumb to rat infestation similar to other high density rental development in Baltimore County??
In the following video taped on June 5, 2015, Councilman Crandell re-affirms his 2014 election campaign commitment to the community of Fort Howard and Veterans of the United States of America this type of over-development "will not happen on his watch." Mr. Jay Hidden states his concerns should Mr. Crandell be voted out of office next term.
Another concern of FHCA is next week's Feburary 21, 2017 meeting of the Baltimore County Council voting in of 9 commissioners to the Baltimore County Charter Review Commission for the creation of a commission every 10 years to review the County Charter. This commission will have broad authority to recommend changes to the way the County conducts its business. Issues such as land use, development rights, ethics reform, taxation, and spending will be front and center when this commission convenes.
Baltimore County 3rd District Councilman Wade Kach recently posted a CALL TO IMMEDIATE ACTION on his website shouting overwhelming opposition to the choice of 4 commissioners having conflicts of interests as LAWYER/ LOBBYIST representing Baltimore County developers.
If voted in, these Commissioner/Lobbyist could have an impact on the Fort Howard VA campus development.
The Fort Howard Community Association will be holding a meeting March 2017 to discuss the impact of the conciliation agreement and to discuss retaining legal counsel/representation should a Plan Unit Development be submitted to Councilman Crandell for approval.
Kathleen Labuda
Secretary/Treasuer
FHCA
"It's our community, let's take care of it."