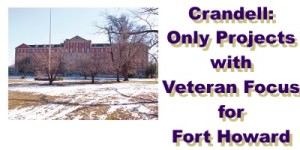 – Article & Photo by Devin Crum –
Baltimore County Councilman Todd Crandell (R-7) last week rejected a long-awaited attempt to build what has been called a "mini-city" on the Veterans Administration-owned property at Fort Howard. It was no secret that Crandell had planned to reject the project, which was proposed as a planned unit development (PUD) to redevelop the roughly 100-acre property. Crandell's legislative aide, Doug Anderson, noted that they had been waiting for developer Tim Munshell, of Fort Howard Development LLC, to submit the plan since Crandell took office. "So we finally got that 1,500-unit monstrosity with retail and everything else," Anderson commented, adding that the councilman had been up front with the developer about their intentions. The East County Times previously reported Crandell's belief that that rejection is what was needed for the developer to be able to renegotiate their lease with the VA and eventually put forth a more compatible project for the area. The PUD as introduced proposed to build 1,375 residential units (786 rentals and 589 owned), a 112-room hotel, 296 health care beds, 102,590 square feet of retail space, 58,597 square feet of office space, 43,030 square feet of other amenities and 2,212 parking spaces on the land, zoned DR 5.5 (5.5 residential units per acre). "The PUD called for almost three times the housing density the property is zoned for, and I am not willing to support a proposal that excessive," Crandell explained. "The community is against this plan because it would fundamentally change the character of the North Point Peninsula, not to mention the infrastructure demands it would place on the system." Crandell added that he had promised to protect the North Point Peninsula from overdevelopment and that he was "proud" to fulfill that promise, sending the developer back to the drawing board and likely into renegotiations with the VA. "We're happy about that," explained North Point Peninsula Council President Harry Wujek. "It is in keeping with our prior plans and expectations for the peninsula." The NPPC has long kept a watchful eye on the development plans for Fort Howard. Crandell added to his announcement of the rejection that "Our veterans deserve better than to have their sacred land swallowed up by development. Any plan that seeks my support will have to have a veteran's focus as well as be a fit for the community." Asked if that meant the councilman would reject any plan not having a focus on veterans, Anderson said, "I would say [I'm] 99 percent sure he would not approve something without any veteran focus." That statement from Crandell also enjoyed the full backing of the NPPC. "We support that 100 percent," Wujek commented.
Photo caption: Under the rejected PUD proposal, the iconic VA hospital building was to be converted to a 112-room hotel on the property. File photo.